Presentation of the Company
In het bruisende centrum van Antwerpen wordt Sapphire House gerealiseerd. Een opvallend hotel (en veel meer dan dat) vanwege de locatie, het architectonische karakter en de unieke geschiedenis. Het vertegenwoordigt een levendige, luxe levensstijl die de authentieke manier van leven in Antwerpen weerspiegelt. Een plek om gasten te inspireren en stimuleren om hun ervaringen en verhalen te delen. Het interieurontwerp, dat momenteel in ontwikkeling is, zal de grootsheid en het historische karakter van het pand benadrukken en biedt tegelijkertijd al het moderne comfort dat men mag verwachten van een Autograph Collection hotel by Marriott.

Het hotel heeft 139 kamers, is gelegen in het centrum van Antwerpen direct achter de Meir, ( de grote shopping street in Antwerpen) Verbonden met de totaal gerenoveerde handelsbeurs in Antwerpen. Het hotel bestaat uit een historisch deel dat totaal gerenoveerd is en een nieuw aangebouwd deel, dat in dezelfde oude stijl is neergezet.
Picture of the Company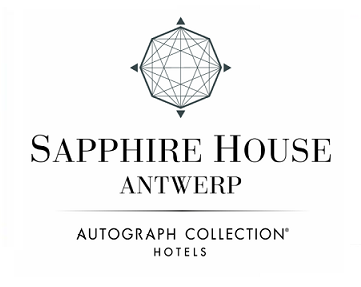 Total number of hotel rooms
139
Name of the restaurant
Nog niet bekend
Name of the bar
Nog niet bekend
If applicable, to which hotel group does the hotel belong?
Marriott
3 important characteristics that our employees have:
Zorgzaam, Inspirerend, trendsettend
A candidate wants to work with us because:
Het is een unieke kans voor iemand om een onderdeel uit te maken van een nog te openen hotel, maar ook een nieuw en uniek concept in Antwerpen.
"Sapphire House is the only true 5 star luxury lifestyle experience in the City of Antwerp"
The training period of new employees looks like this:
Dit is nog niet bekend.
Real career opportunities for employees:
Wij stimuleren het doorgoeien van onze collega's binnen het hotel en ander binnen onze hotel portfolio. Er zijn genoeg kansen voor de collega om een stap te maken naar supervisor of management niveau, maar er is ook altijd een mogelijkheid om door te groeien naar een andere afdeling.
Total number of permanent employees:
Momenteel niemand, het hotel staat in de opstart fase
Recent vacancies by Sapphire House Antwerp - Autograph Collection
Below you will find the most recent jobs for this employer.
Address