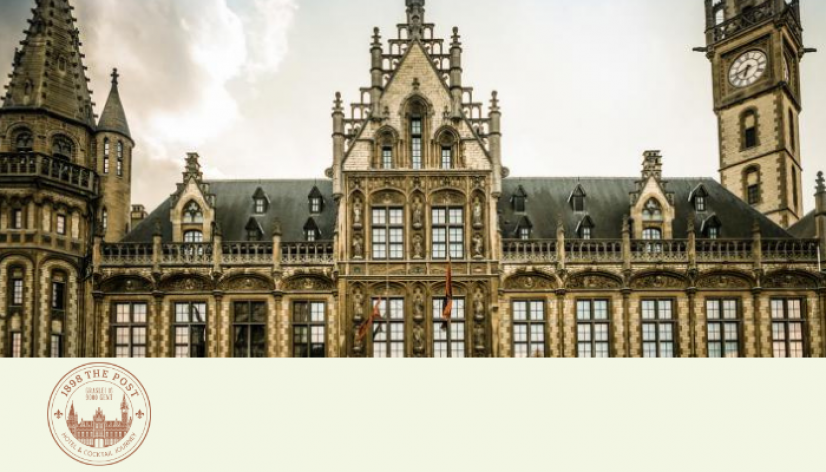 Receptionist(e)
Bedrijf
Lying at the confluence of the Lys and the Escaut, Ghent unveils itself over time. Seductive and welcoming, it has been described as one of the best-kept secrets of Europe. Indeed, Ghent can best be discovered slowly and is worth the wait. The 1898 The Post is without a doubt the reincarnation of all the hotels that have come before it in this city of the Mystic Lamb, showing the same spirit, the same intimate beauty, revealing itself in each and every room. An ode to origins Each of the thirty-eight rooms exude warmth, geniality and personality but each is unique and has its own story to tell. The high ceilings and the dark green walls give a special elegance to the warmth exuded by each room. Large windows, the wood that is everywhere and an indirect light fill each room with a comfort such that you feel at home before you have even unpacked. The antique furniture dating from the 20th Century stands harmoniously side by side with modern technology ensuring maximum comfort for the most demanding guests. Designed with flair and an eye for detail, these exceptional rooms show a rare elegance, reflecting geographical insight and aesthetic coherence, integrating naturally into the interior of this new hotel. The rooms and suites in this hotel range from 20 to 65m2 in size and offer a stunning view of the city
Taken
Function:
The Front Office Team member is responsible for providing a friendly, welcoming and efficient service to all hotel guests, in line with the hotel's vision and values on customer satisfaction. The main purposes of the hotel reception area's staff are to respond courteously to guests' requests, run the reception desk and help the Rooms Division Manager to maintain a smooth room bookings service.


Main responsibilities:
To undertake front of house duties, including meeting, greeting and attending to the needs of guests, to ensure a superb customer service experience.
To build a good rapport with all guests and resolve any complaints/issues quickly to maintain high quality customer service.
To deal with guest requests to ensure a comfortable and pleasant stay.
To assist in dealing with customer complaints in an effective and courteous manner, providing or seeking solutions as quickly as possible.
To be responsible for accurate and efficient accounts and guest billing processes.
To assist in keeping the hotel reception area clean and tidy at all times.
To undertake general office duties, including correspondence, emails, filing and switchboard, to ensure the smooth running of the reception area.
To administer all channels of reservations to ensure that room bookings are made and recorded accurately.
To ensure that all reservations and cancellations are processed efficiently.
To keep up to date with room prices and special offers to provide accurate information to guests.
To report any maintenance, breakage or cleanliness problems to the relevant manager.
To administer the general petty cash system and float in an accurate manner.
To undertake all training as required (i.e. first aid, health and safety, customer service).
To adhere to all fire safety test procedures and to assist in the evacuation process in the event of fire.
To undertake any other ad-hoc duties relevant to the position, as and when required.
To inform the Guests about any cultural events going on in the city.
To up-sell the hotel products and services
To support the F&B team if needed, for example by serving coffee and afternoon tea, or doing the room service.
Profiel
Ervaring in hotel industrie is een plus
Studieniveau : Bij voorkeur studies hotelmanagement of toerisme
Algemene vereiste:
Je bent vlot, sociaal en dynamisch en houdt van contact met mensen
Je hebt een verzorgd voorkomen
Het spreken en schrijven van Nederlands, Frans en Engels zijn een must
Uurrooster
Startdatum
Aanbod
Wij bieden een marktconform loon, een uniform en het wassen daarvan, maaltijdcheques, eco-checks.
Mogelijkheden om door te groeien.
Solliciteren
1898 The Post
Graslei 16
9000 Gent
t: 09/277.09.60
m: Miguel Declercq – fom@1898thepost.com

Of via de buttons onderaan deze pagina.
Statistics
| | |
| --- | --- |
| Aantal keer bekeken: | 2377 |
Opdrachtgever
1898 The Post
Publicatiedatum
07.03.2023
Miguel Declercq
fom@1898thepost.com
www.1898thepost.com