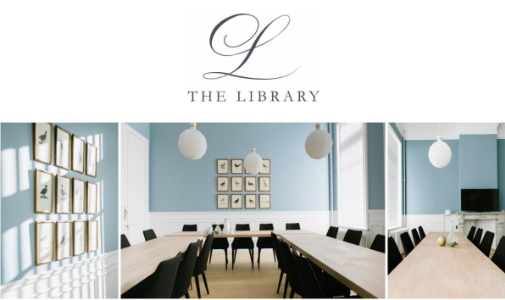 Events & Reception Coordinator
The Library Group
The Library Group runs two upscale business centres in Brussels focusing on great service and beautiful décor. Our members are professionals and entrepreneurs from all sectors including banking, lobbyism, consultancy and design. The most important job of the Events & Reception Coordinator is to carry on the values and communication style of the Library Group and maintain member satisfaction and attraction.
Areas of responsibility for the Events & Reception Coordinator:
General
Handle receptions and take care of the house and members' needs during the day
Making sure the meeting rooms and offices are clean and presentable
Manage the running of the houses in collaboration with the team – plan for office moves and setup, plan for minor repairs and maintenance, plan for cleaning, IT and other supplier project
Collect news and content for newsletter, marketing efforts and social media
Lead by example and set the highest standards through personal conduct
You have a host, sales and solution-oriented mindset.
Be a brand ambassador for The Library and project the values at all times.

Meetings & Events- "we are specialists in small to medium sized meetings and events"
Sending sales proposals for meetings and events
Planning for meetings & Events (planning would entail preparation for the event, ordering supplies,getting the best prices, etc.)
Hosting & executing meeting & events (Serving of coffee breaks & lunches, "mise en place" and cleaning up, set up of seating & Audio-Visual, hybrid meeting equipment)
Attract new members through house tours, follow up with prospects, (Private Offices, meetings and events)
Customer Service
Maintain member satisfaction and keep the community alive with events and daily, personal attention and general networking
Implement The Library Vision with staff and members
Qualifications
The Library stands out for the unparalleled level of service and personal attention. If you get a kick out of putting our client's needs before your own, then this is the place for you. You must speak English fluently and have a good command of French and/or Dutch. Knowledge of the Nordic languages/culture is a bonus. You are the kind of person, who will stop to pick up a cigarette butt on the pavement in front of the house and take dead leaves off a plant without being asked to do so. You take pride in knowing that you make a difference because you care.

You must be presentable, polished and know how to dress when jeans and sneakers are not an option. Creativity, team spirit and a sense of humour are also vital. This is a hands-on job, not suited for people who prefer to sit still all day. Occasional evening hours should be expected in case of evening events.
What we can offer
A stylish, fun and creative environment with contact to lots of small businesses. A great learning experience for the future and a part in our success as we grow together. We will invest in you in terms of courses for you to expand your qualification. You'll join a team, where we have a lot of fun, look out for each other and genuinely like hanging out together.
Solliciteren
In this role, you will be in close, daily contact with the CEO of The Library Group and also our Office Manager. Please send your CV as well as a short motivation for your application to CEO Robert van den Born at rvdb@thelibrarygroup.be. Read more about The Library here www.thelibrarygroup.be or on our Instagram/Facebook pages - The Library Brussels.
* HYGGE ("Heu-Gah")
The art of building sanctuary and community, of inviting closeness and paying attention to what makes us
feel open-hearted and alive. To create well-being, connection and warmth. A feeling of belonging to the
moment and to each other. Celebrating the everyday.
Statistics
| | |
| --- | --- |
| Aantal keer bekeken: | 1155 |
Opdrachtgever
The Library
Publicatiedatum
20.01.2023