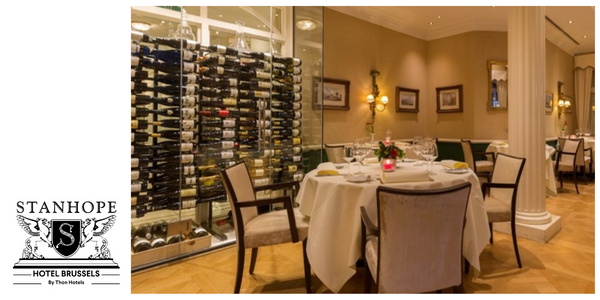 Demi-Chef de Partie
About Thon Hotels
Passionately committed. We strive daily to create special moments for our guests.
Professional hospitality. We aim to see, hear, and relate to all our guests.
The power to please. We are keen to make a personal effort to ensure every stay is the best stay!
Innovative. We constantly improve and invest in our hotels.
Financially solid. An international company you can rely on.
Green. We make sure to contribute to a more sustainable society for future generations being locally and internationally certified with green labels.
We are currently looking for Demi-Chef de Partie to join our dynamic team at Stanhope Hotel Brussels by Thon Hotels.
Luxurious. We were the first hotel to receive 5-stars in Brussels.
English charm. The hotel and restaurant is decorated in traditional British style
Freshly refurbished. Stylish and pleasant environment
Do
Amaze. Your dishes and buffets are a feast for their eyes and their stomach.
Share. Share your love for food through your creative cooking.
Respect. You know the hygiene standards and apply them conscientiously, while having an eye on the critical points. Conscientious handling of food is also a matter of course for you.
Assist. You will assist the Executive Chef and the Sous-Chef.
Flexible. You are open to working flexible schedules during both the day and evening hours. Split shifts are no issue for you.
Our perfect match
Passionate. You are passionate your craft.
Polyvalent. You like to work as a team but can also work autonomously.
Flexible. No 9-5 mentality. You adapt easily to people and situations.
Accurate. You respect our procedures in order to deliver impeccable dishes in terms of quality, manufacturing and presentation to our guests.
Experience in a similar position. You have already been working as a (demi-)chef de partie and can contribute your experience.
Receive
Motivational remuneration package including:
- Contribution to public transportation costs. And yes, we contribute for 100%.
- Flexible extra-legal benefits. Pick and choose between an attendance bonus, extra days off or a cafeteria plan.
- Non-recurrent benefits linked to results (CCT90). A nice little extra.
- Hospitalization insurance. And yes, also for the people you love who live at the same address.
- Seniority days. Extra days off according to your seniority and age.
- Food. We provide a free meal.
Personal development. You can choose trainings through our catalogue.
Celebrate. We encourage to celebrate successes with your team at staff events.
Family event. You will be invited to the annual family event where you and relatives are celebrated
Fun. Excellent working atmosphere with the nicest colleagues
Why join us
Family mindset. At Thon Hotels you are not a number, but an individual with your own skills, talents, and passion.
Diversity. Our guests and your future colleagues come from all over the world.
Flat hierarchy. No useless bureaucracy & corporate mentality.
Autonomy. You are the director of your career by doing the extra step without fear.
Accessible. All our hotels in Brussels are easily accessible
Apply
Send your application via our electronic application form on this page. Note that we do not accept applications received by email.
The Olav Thon Group is dedicated to diversity and encourages qualified candidates to apply regardless of age, gender, disability, nationality or ethnic background.

>>>> APPLICATIONS<<<<
Statistics
| | |
| --- | --- |
| Aantal keer bekeken: | 2356 |
Opdrachtgever
Stanhope Hotel Brussels by Thon Hotels
Publicatiedatum
09.02.2023
02/5069010