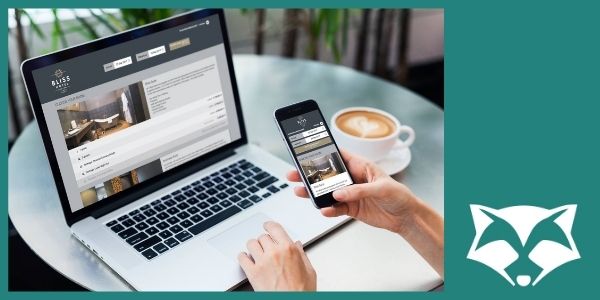 Account Executive Belgium
Bedrijf
The best All-in-one Hotel Management System RoomRaccoon was founded by an independent hotel owner, she understood the daily struggles of hoteliers. This has led to a personal mission to look for a solution that really helps - and she has found it! We are proud to have been chosen as the best Hotel Management System of 2020 and 2021. What's in our name? Why RoomRaccoon? The furry mammal with its recognizable black-and-grey tail is known for its problem-solving skills and intelligence - and we think that's an apt description for us! We were founded to make a difference in the hotel industry. We can provide you with technological solutions to not only take your accommodation to the next level in every aspect, but also your company, your guests and your employees.
Taken
"It's an exciting time to join RoomRaccoon. Through innovation, we have been able to enter many different markets and grow our international team of professionals who are dedicated to helping RoomRaccoon with its mission of becoming the world's number one hotel management system." - Tijmen van Dijl (CEO & Co-Founder)
Reports To Head of Global Sales
Job Overview:
This is what you tell people at parties: I am working at an international super-fast growing tech company and we are revolutionising hoteliers around the globe. RoomRaccoon is awarded the world's best Hotel Management System for 2 years in a row and empowers hoteliers to run their property way more effectively. Our growing team of 71 heads is working from 10 offices all over the world!
Your role:
You will be responsible for selling RoomRaccoon to hoteliers in the Benelux operating 10-100 rooms. Your primary responsibilities will be:
1. Performing demos to hoteliers, in which you are actings as a consultant, tailoring RoomRaccoon's added value to the hotelier's simple or complex needs;
2. Following up inbound leads within agreed response times;
3. Managing your lead pipeline, never losing a deal opportunity out of sight and nurturing your prospects;
4. Reaching out to hoteliers on an outbound basis, powered by our sales engineering toolkit.
5. Start your day with a daily huddle together with the international sales team via video call, led by our Global Head of Sales;
6. Run through your deal pipeline and action for follow up on relevant opportunities
7. Call an inbound lead that just dropped and schedule a demo
8. Deliver demos to interested hoteliers that will challenge you on the best added value of all RoomRaccoon has to offer their business
9. Call potential hotels that are a great fit for RoomRaccoon and introduce them to our product
10. Handover a closed deal to our Implementations Team, who will take care of onboarding the new customer.
11. You will spend your days convincing hoteliers how RoomRaccoon will level-up their hotel, creating new revenue for them, saving time and costs!
You will be accountable for:
1. Your Monthly Sales Target
2. Call, Outbound SQL & Demo Targets (as detailed in personalised funnel metric sheet)
Profiel
Our perfect fit has/is:
Analytical
Competitive
Organised
Efficient
Results Orientated
Proactive
Clear Communicator
Aanbod
Benefits:
2500 Euros plus comission
Working in a vibrant international fast growing company
Unlimited learning & growth potential
Your ideas and performance making a big difference in our organisation and the global hotel industry
Work hard, Play hard mentality. We love celebrating successes together!
Employee Equity Scheme
Regular trips to Europe for trainings & celebrational ceremonies (International Week)
Annual RoomRaccoon Hotel Experience
Friday lunches are on us
Annual salary increases
Training & Development opportunities
Solliciteren
Statistics
| | |
| --- | --- |
| Aantal keer bekeken: | 2123 |
Opdrachtgever
RoomRaccoon B.V.
Publicatiedatum
24.05.2022
Kelly Romer +31 (0)850290141
kelly.romer@roomraccoon.com
www.roomraccoon.com