Voorstelling van het bedrijf
Pillows Grand Hotel Reylof

We believe that today's and tomorrow's travelers highly appreciate an individualized experience when it comes to their hotel stays. A personal approach in an elegant and medium-sized one-of-a-kind hotel. That is why we created Pillows Hotels. For us, there is no greater purpose than the comfort and well-being of the people we serve; our guests, our stakeholders and of course you, our employee.

We always offer our guests excellent and professional service, efficient guest-oriented systems and a home away from home feeling. This combination has proven to lead to high guest satisfaction rates and an optimal work environment.

The well-known Grand Hotel Reylof will undergo a metamorphosis in the summer of 2018. The entire service we offer will change, due to the implementation of our luxury boutique hotel concept Pillows. The reopening is planned for October 8th 2018. That is why we are looking for you.
Foto van het bedrijf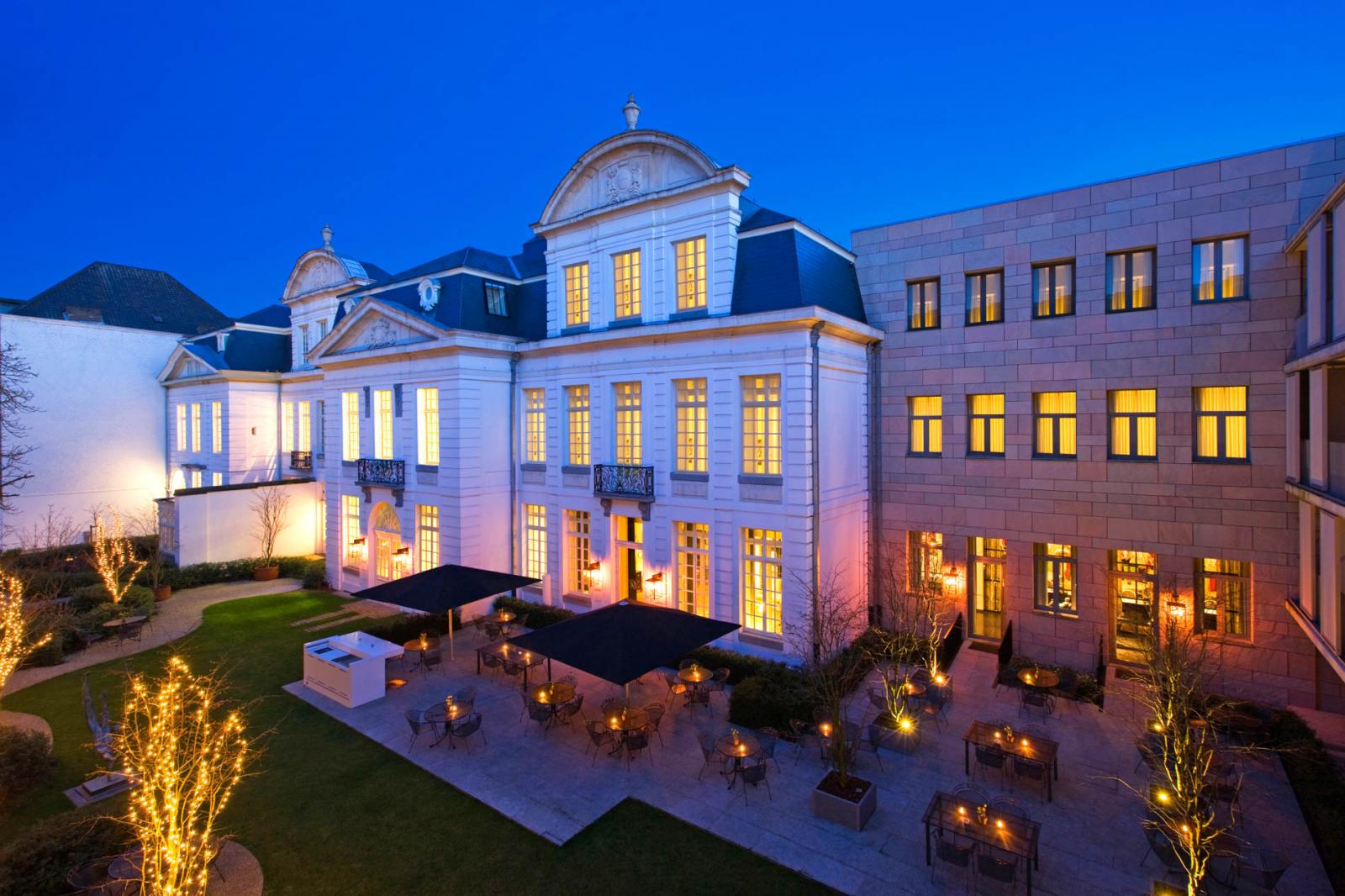 Foto van het team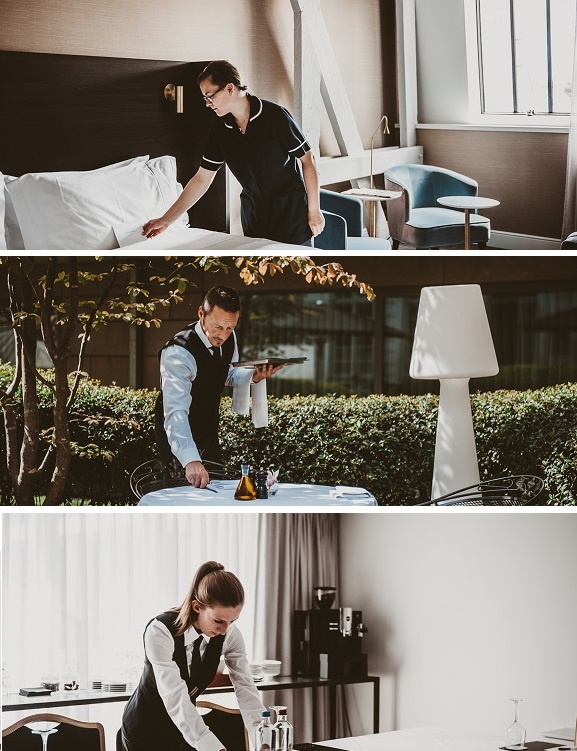 Getuigenissen
LIESBETH HEBBEN – SUPERVISOR HOUSEKEEPING :

For about one and a half years now, I've been working in the most beautiful hotel in Ghent, the Pillows Grand Hotel Reylof. Because I'm a school leaver, I was fortunate enough to be given an opportunity in the Housekeeping Team here, despite my relative lack of experience. The team consists of 15 people of different nationalities. Even though we all have a different background, we strive for the same goal: with an eye for detail and perfectionism, we provide the perfect room for our guests every day. If our guests are happy, we are too!

My most important personal characteristics are helpfulness and flexibility. These two characteristics ensured I quickly had the opportunity to become Supervisor Housekeeping. Naturally, I grabbed this opportunity with both hands. In addition to optimally preparing the guest rooms, my team and I feel very responsible for providing a unique guest experience. An immaculate, perfect room contributes to this. I work with a very close-knit team of people, we listen to each other and help each other. Only then can we meet the highest demands.

It is my responsibility to ensure the housekeeping team is tightly organized and I always ensure my team follows the strict internal guidelines and rules. Paying attention to the smallest details is of the utmost importance to us. For example, I get my daily satisfaction from placing the 'thank you card' on our guests' beds in the right way and the final check to see all is perfect before leaving the room. I like to transfer that enthusiasm to my team.

WIM MEUL – HOST F&B LOF :
I once started my career as a bookkeeper. Something completely different yo'd think, but maybe not that much. What my first job has in common with my job at Pillows Grand Hotel Reylof in Ghent is that both are all about customer service. However, my current job is not just about service, my aim is also to exceed guests' expectations every day. Not only in the terms of gastronomy, but in all other areas as well. For example, it's important that I have a flexible attitude, that I listen to and help with the wishes of our guests, all while being open and spontaneous. In other words, everything to provide guests with an unforgettable experience.

In this hotel, we work together in a team and this team is expected to deliver a high level of service and hospitality day in, day out. In my profession, you always work under pressure. But having said that, I perform best in situations where I have to act fast. I've learned a lot since I started working here. And as far as I'm concerned, I'd like to continue gaining experience here for many years to come.

Restaurant Lof at Pillows Grand Hotel Reylof has one main ambition: acquiring a Michelin Star. The fact that I've been given the opportunity to help work towards this as a Host F&B, is a true honour. My own personal ambition is to one day have my own left-handed hotel'. This shows how much I enjoy helping out our guests. I am able to see how I can improve the expectations of the guest and show our ambition. How? By seeking their "challenges". For example, when we host a business meeting I will check first if they want me to announce the dishes. If so, I will. If not, I will find an other way to stick to the etiquette without disturbing the important business diner.

BEATRICE LAIR – HOST BANQUETING
As a little girl, I used to cycle past the beautiful Pillows Grand Hotel Reylof and dreamed of working there one day. I dreamed about completely pampering my guests. That I could offer them a fantastic experience and they'd always promise me to come back again on departure. As it turns out, dreams can actually come true.

In the meantime, my dream has been a reality for several months now. I've been working at the most beautiful hotel in Ghent for 4 months. Upon my appointment, I was immediately offered a permanent contract, which for me was a sign that Pillows Grand Hotel Reylof gave me all their confidence. I will therefore do everything I can to never damage that trust.

Whether I'm preparing breakfast for international guests, a lunch for business guests or a dinner at restaurant Restaurant Lof, I believe attention to detail is important and everything should look perfect. Courtesy and providing (un)requested additional services is very important at Pillows, but the ability to assess certain situations and act appropriately is also important in my job.
As a banqueting employee, I have a highly varied job. In addition to the daily contact with guests, I see it as one of the biggest challenges to create a unique guest experience by fully organizing every aspect of our guests' cuisine. At Pillows, it is very important that we maintain our high standards every day or even improve upon them. That's the main reason why this job is my dream job.

FEEL INSPIRED?
Do you also look for this in a job? Do you want to work in a hotel with great international allure and a varied working environment? Please take a look at the possibilities, and who knows... maybe I'll soon greet you as my new colleague!
Totaal aantal hotelkamers
157
Totaal aantal vergaderzalen
7
Feestzalen/vergaderzalen aanwezig? Indien ja, hoeveel en welke is de maximale capaciteit?
100 personen zonder lunch en diner
Naam van ons restaurant
Restaurant Lof
Naam van de bar
The Living
Is er parking aanwezig in het hotel?
Ja
Indien van toepassing, tot welke hotelgroep behoort het hotel?
Pillows Hotels
Indien van toepassing, tot welke managementgroep behoort het hotel?
International Hotel Management Group
Check gauw ons bedrijfsfilmpje!
Sandton Grand Hotel Reylof, Gent A four-star de luxe hotel in the heart of the most historic and exciting city of Flanders.
Totaal aantal vaste medewerkers in dienst
80
De recente vacatures van Pillows Grand Boutique Hotel Reylof
Hieronder een overzicht van recente vacatures van dit bedrijf.
Klik op de vacaturetitel om een uitgebreide beschrijving te krijgen.