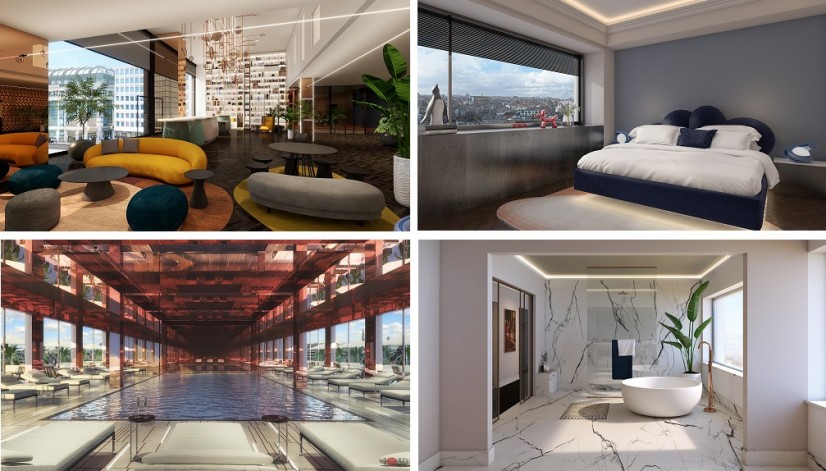 Security Manager
Bedrijf
Located within the heart of Europe and one of the Brussel's most vibrant areas, Cardo Brussels Hotel is the new and trendy landmark in the neighborhood and the most distinctive luxury lifestyle hotel in the city, catering to both selective leisure guests and business travelers. The hotel will offer contemporary wellness and dining experiences, 532 stylish rooms & suites, as well as 1500m2 of MICE facilities and amenities.

Cardo is a brand built on a culture of emotional intelligence and sublime hospitality, designing experiential places for individual wellbeing and corporate culture optimization. Our purpose is to make city breaks and workcations less apologetic, more purposeful and tuned to the self

Taken
Manages the daily functions of the department to ensure protection of property assets, employees, guests and property.
Maintains logs, certifications and documents required by law and Standard Operating Procedures.
Trains staff in established emergency procedures and implements accident and fire prevention procedures.
Position focuses on ensuring guest and employee satisfaction while achieving the operating budget.
Principal Accountabilities:
Managing Security/Loss Prevention Operations
• Comply with applicable laws and safety regulations.
• Follow proper key control guidelines in loss prevention and in the property.
• Assist the Director of Engineering in administering fire prevention programs and emergency preparedness.
• Conducts hazard and risk assessments at the property to include quarterly OSHA/SAFETY audits, incident tracking, and the hazard abatement process.
• Develop detailed "shut down" procedures for the property to ensure that all areas are secured at the appropriate times.
• Develop a monthly checklist for all CCTV equipment, alarmed doors, and duress alarms to ensure that they are fully functional.
• Incorporate into patrols, which encompass all areas of the property's interior and exterior, an inspection tour of recording system.
• Follow Duty of Care process for the protection of guests and employees.
• Follow up on all unusual activities in and around the property that would impair the well-being of guests and employees.
• Handle complaints, settling disputes, and resolving grievances and conflicts, or otherwise negotiating with others.
• Implement action plans to monitor and control risk.
• Monitor all unusual activities in and around the property that would impair the well-being of guests and employees.
• Oversee all loss prevention operations to include but not limited to patrol process, emergency response, investigations (initial & follow up) for all guest and employee related incidents, shipping and receiving process (makes recommendations for improvement), electronic key system and manager on duties responsibilities.
• Oversee first aid program for guests and employees.
• Oversee the claims process and protects company assets by closely monitoring the General Liability and Worker's Compensation cases.
• Communicate the importance of safety procedures, detailing procedure codes, ensuring employee understanding of safety codes, monitoring processes and procedures related to safety.
• Emphasizes teamwork, close working relationships with other departments and assertive hospitality to serve as a deterrent to crime.
• Encourage and build mutual trust, respect, and cooperation among team members.
• Provide personal assistance, medical attention, emotional support, or other personal care to others such as coworkers, customers, or patients.
• Serve as a role model to demonstrate appropriate behaviors.
• Utilize interpersonal and communication skills to lead, influence, and encourage others; advocates sound financial/business decision-making; demonstrates honesty/integrity; leads by example.
Ensuring Exceptional Customer Service
• Meet quality standards and customer expectations on a daily basis.
• Identify the educational needs of others, developing formal educational or training programs or classes, and teaching or instructing others.
• Inspect and analyze the performance of the loss prevention department to establish and maintain a high level of professionalism and customer service.
• Provide services that are above and beyond for customer satisfaction and retention.
Additional Responsibilities
• Analyze information and evaluating results to choose the best solution and solve problems.
• Develop liaison with local law enforcement and emergency services.
• Inform and/or updates the executives and peers on relevant information in a timely manner.
• Provide information to supervisors and co-workers by telephone, in written form, e-mail, or in person.

Profiel
Competencies:
Excellent Communication Skills
Ability to Serve Client's Needs
Consistent display of impeccable ethics
Customer service-oriented
Problem solver
Positive approach
Qualifications, Skills & Experience:
Fluent in both English and French.
Strong understanding of security/loss prevention
Internationally experienced
Affinity with a more refined lifestyle
Education and Experience:

Minimum 4-year experience in similar role in comparable property with sizeable rooms and meeting spaces.

Preferred:
Has demonstrated the ability to always work on behalf of Guests
Has demonstrated the ability to work with other Team Members
Successful track record of working in a collaborative/matrixed environment
Solliciteren
address of the workplace:
Rogierplein 3 Place Rogier
1000 Brussels/Bruxelles
Applications:
Duco Heijbroek
jobs.brussels@cardohotels.com

Or use the application buttons at the bottom of this page.
Statistics
Opdrachtgever
Cardo Brussels
Publicatiedatum
09.11.2021
Applications
jobs.brussels@cardohotels.com
www.cardohotels.com