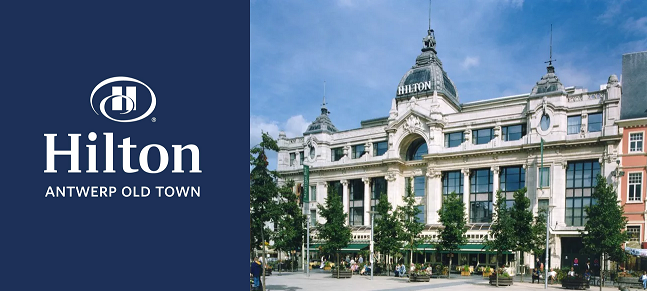 Sales Manager
Bedrijf
Hilton Antwerp Old Town is located in the historical heart of Antwerp on the Groenplaats. The hotel opened in 1993 and is housed in a beautiful historic building, the former Grand Bazar du Bon Marché, which is classified for its remarkable architecture. We have 210 spacious rooms in classic style, in different room types from Hilton Guest Rooms to the "Royal Sinjoor" a Duplex Suite. Our restaurant works under 'Brasserie Flo', this is a brasserie concept from Paris and is known for its seafood, crustaceans. We have a total of 15 banquet and event rooms with a capacity from 2 persons up to 1000 people in our Belle Epoque ballroom.
Taken
As a Sales Manager, you will analyse local market trends and competitor activity to recommend strategies that keep the hotel a leader in the marketplace through the development of future and repeat business. Specifically, you will be responsible for performing the following tasks to the highest standards:
Analysis local market trends and competitor activity to identify business leads
Develop customer accounts and travel within the local area to drive business into the specific hotel and to increase market/customer share in all revenue streams
Negotiate room rates/packages with corporate clients
Prepare company contracts for the hotel in accordance with current business and pricing conditions
Work within current business strategies and recognising potential opportunities
Cooperate with other departments in the hotel to create an exceptional Guest experience and build strong, comprehensive sales programs
Attend Sales events, as required
Produce accurate and timely reports that meet the needs of the Commercial Manager to include the reporting of appointments, calls made and business leads
Answer customer queries in a prompt and professional manner
Profiel
A Sales Manager serving Hilton brands is always working on behalf of our Guests and working with other Team Members. To successfully fill this role, you should maintain the attitude, behaviours, skills, and values that follow:
Positive attitude and good communication skills
Commitment to delivering a high level of customer service
Excellent grooming standards
Flexibility to respond to a range of different work situations
Ability to work under pressure and under own initiative
Experience in a sales role with a proven track record to close a sale
Strong prospecting abilities It would be advantageous in this position for you to demonstrate the following capabilities and distinctions:
Knowledge of local market
Knowledge of hospitality
Passion for sales and for achieving targets and objectives
Languages: Dutch, French and English
Uurrooster
Startdatum
Aanbod
Fixed contract, full time
Adres van de werkplek:
Groenplaats 32
2000 Antwerpen
Solliciteren:
t.a.v. Sophie Josson
T.: +32 (0)3 204 86 85
M.: Sophie.josson@hilton.com
Of via de buttons onderaan deze pagina.
Opdrachtgever
Hilton Antwerp Old Town
Publicatiedatum
06.02.2019
Sophie Josson 0032-3 204 86 85
sophie.josson@hilton.com
www.hiltonhotels.com/nl_NL/belgie/hilton-antwerp-old-town